Crispy sauteed mushrooms are tossed and swirled with pasta in a garlicky cream sauce. This easy meatless weeknight crispy mushroom pasta with creamy garlic sauce is perfect for any occasion!
It's the holiday season, y'all. And while I've been running about like a chicken with my head cut off trying to do all the things in preparation for Thanksgiving and Christmas, like I'm sure you've been doing, I had time to make a quick, easy, and oh, so, satisfying pasta recipe for dinner in under 20 minutes.
If there's one thing you need to know about Sweet Tea and Thyme, it's that we love a good saucy pasta recipe. Especially one that's easy, simple, and full of deliciousness. And this crispy mushroom pasta is the epitome of easy, simple, and delicious.
What's in this crispy mushroom pasta?
Sliced White Mushrooms. You can use cremini mushrooms, they're in the same family and have a similar flavor. They're both easy to find in the grocery store.
Unsalted butter.
Fresh garlic. And plenty of it!
Your favorite type of pasta. I used angel hair, it's a personal favorite.
Heavy cream. If you're wanting a healthy mushroom pasta recipe, substitute your pasta's cooking water for the cream.
Fresh Spinach. Optional, but I love adding spinach to my pasta.
Parmesan cheese. Because I have a problem. I need help, I'm addicted to parmesan cheese. It's just too good.
Lemon zest and lemon juice. Lemon brightens up the meal, cutting the richness of your creamy mushroom sauce and the zest adds lovely lemony flavor. Did you know that the skin of the lemon is what actually holds the 'lemon' flavor, not the juice?
Can I make the creamy mushroom sauce vegan?
Yes! Use olive oil instead of butter, use some of the pasta water to make a sauce with vegan parmesan cheese instead of heavy cream. Really easy swaps, really delicious results!
How to Make Mushroom Pasta
Pasta with garlic buttery mushrooms and creamy sauce is done literally in twenty minutes. Fifteen minutes if you buy pre-sliced mushrooms. You'll boil some pasta while crisping up mushrooms and reducing the creamy, garlicky sauce.
First, let's talk about those crispy mushrooms.
I sauteed some simple white button mushrooms in unsalted butter until they were becoming golden brown.
Mushrooms hold a lot of water, so you'll notice that they'll soak up the liquid from the butter before they release it again through steam and become crispy. Once you see that burnished orange color on the edge of those mushrooms, keep a good eye on them. We want crispy. Not burnt.
Around the end of the mushroom's cook time, we're adding in minced garlic to really get the garlic toasty and blooming with garlic buttery goodness.
Next, we set the mushrooms aside and make the creamy sauce in the same pan.
We're setting the mushrooms aside so that they stay crispy, but keeping as many pieces of the toasted garlic as possible. Reduce the cream with the lemon zest, add the cheese, sprinkle in the lemon juice, then add the spinach to wilt at the end. We don't want that 'green' flavor in the sauce so they don't need to cook that long, just at the end until wilted.
By now your pasta will be al dente or even just under which is better because we are going to toss the noodles in the creamy sauce to soak up some of it while it finishes cooking in the sauce, which flavors the pasta as well.
The starchiness of the pasta also thickens up the sauce a little, so if yours is looking a little too saucy (is there really such a thing?) give it a couple of minutes for the pasta to absorb. This recipe has just enough sauce to coat the pasta, so if you want more sauce, double the cream and parmesan amounts.
Add mushrooms to the creamy sauced pasta (or serve them as you plate to keep the mushrooms as crispy as possible) and garnish with a little fresh lemon zest and healthy amounts of parmesan cheese.
This recipe is already vegetarian, but if you don't want to use regular parmesan cheese, I'll have a link to my favorite vegetarian brand of parmesan (meaning it does not use animal rennet in the cheese-making process) in the recipe below. You can also find vegetarian brands of parmesan at Whole Foods Market.
So here it is, a fast meatless dinner that you will totally have time to make in between holiday shopping and thanksgiving menu planning.
I really recommend serving this with a piece of crusty bread. I have a really awesome focaccia recipe, which has such an amazingly crispy crust.
More Pasta recipes:
Gnocchi with Bacon Cream Sauce
Shrimp Scampi with Angel Hair Pasta
Instant Pot Short Rib Ragu with Gnocchi
REMEMBER TO SUBSCRIBE To SWEET TEA & THYME'S NEWSLETTER FOR FREE AND RECEIVE FRESH RECIPE NOTIFICATIONS DELIVERED INTO YOUR INBOX!
---
WHEN YOU MAKE THIS RECIPE, SNAP A PIC AND USE THE HASHTAG #SWEETTEAANDTHYME ON INSTAGRAM. DON'T FORGET TO GIVE A STAR RATING AND COMMENT below, I love hearing from y'all!
FOLLOW SWEET TEA AND THYME ON FACEBOOK | INSTAGRAM | PINTEREST FOR ALL OF THE LATEST CONTENT, RECIPES AND UPDATES.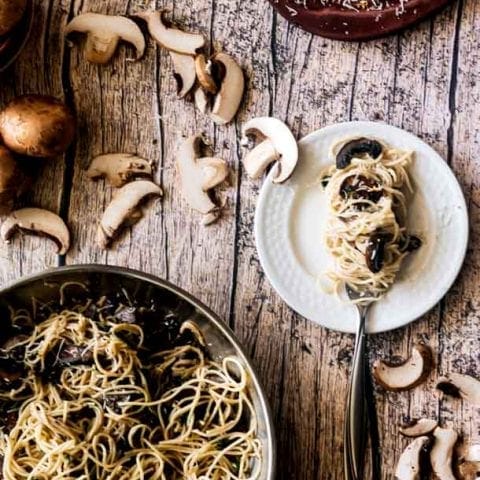 Crispy Mushroom Pasta with Creamy Sauce
Crispy sauteed mushrooms are tossed and swirled with pasta in a garlicky cream sauce. This easy meatless weeknight crispy mushroom pasta with creamy garlic sauce is perfect for any occasion! 
Ingredients
5 tbsp (76 g) unsalted butter
8 oz (240 g) button mushrooms, sliced
12 oz (360 g) dried pasta
3-6 cloves garlic, minced (depends on how much you love garlic)
½ tsp (4 g) kosher salt
½ cup (120 mL) heavy cream
8 oz fresh baby spinach, washed
½ cup (56 g) parmesan cheese, freshly grated
Juice of half a lemon
Zest of half a lemon
Kosher salt and freshly cracked black pepper
Parmesan cheese and lemon zest, for garnish
Instructions
Begin boiling a large pot of salted water. Add in pasta while cooking mushrooms and cook to al dente (or just under al dente) according to package directions.
In a cast-iron skillet or large pan, melt the butter over medium-high heat and add in the sliced mushrooms. Stir the mushrooms around occasionally, to coat all of them in butter and ensure none are burning. Add in the salt to help draw out the water from the mushrooms. The mushrooms will steam before they crisp up, so it will take about 7 minutes before you see them begin to turn an orange color around the edges.
As more of the mushrooms are becoming that burnished orange color, stirring more frequently so they don't burn, turn the heat down to medium and add in the minced garlic. Let the garlic and mushrooms cook more until all the mushrooms are crisping up (releasing all the liquid in them and turning a darker color), keeping an eye on the garlic so it doesn't burn.
When all mushrooms are crispy, take them off the heat and move them into a bowl, leaving as much garlic in the pan as possible. Set aside.
In the same pan, pour in the heavy cream and the zest of half a lemon. Simmer over medium-high heat for 3 minutes, stirring occasionally to make sure no cream sticks and burns at the bottom.
Turn the heat down to low and add the spinach to the cream, letting wilt for about two minutes before stirring in the parmesan cheese. Once the cheese has melted into the cream, add the lemon juice and stir it in.
Taste and season with kosher salt and freshly cracked black pepper as needed.
Add the cooked pasta into the garlicky-lemon cream sauce. If you've cooked the pasta to just under al dente, let the pasta soak up the sauce for two minutes before serving.
To serve, either toss the mushrooms in the pasta and sauce or serve them over the pasta as you plate. Serve hot, with fresh gratings of parmesan cheese and lemon zest.
Recommended Products
As an Amazon Associate and member of other affiliate programs, I earn a small commission for my referral at no extra cost to you. Thank you for supporting Sweet Tea and Thyme!
Nutrition Information:
Yield:

6
Serving Size:

1
Amount Per Serving:
Calories:

543
Total Fat:

14g
Saturated Fat:

8g
Trans Fat:

0g
Unsaturated Fat:

5g
Cholesterol:

31mg
Sodium:

310mg
Carbohydrates:

87g
Fiber:

6g
Sugar:

7g
Protein:

17g
Eden Westbrook is the recipe developer, writer, and photographer behind Sweet Tea and Thyme. A classically trained chef, Eden has inspired home cooks into the kitchen with cultural comfort foods, easy family-friendly eats and sweets, and glorious spreads for date night and entertaining since 2015.