Soft, rich, buttery brioche buns that are perfect for sandwiches and burgers, made in 45 minutes, start to finish.
PIN this BRIOCHE BURGER BUN recipe in your BREAD, DINNER, BREAKFAST, AND BURGER BOARDS on PINTEREST. And follow Sweet Tea & Thyme on Pinterest for more tips, hacks, and tasty recipes!
Homemade buttery brioche buns with simple ingredients fresh out the oven? Dreams come true! At least my dreams; they often involve baked goods. #dontjudgeme.
I am a lover of grocery shopping. I literally want to move back to north Virginia (or somewhere else in the North East) because Wegman's grocery store is there. Okay, that isn't the main reason, but it is a significant reason. Honestly, I even sit down to work on posts at Whole Foods and I'm not even shopping, just working. If we still lived in D.C., I would be working on the blog at our old Wegmans. Game night on Fridays at the grocery store and Earth, Wind, and Fire on the P.A.? That's my kind of place.
P.S. The Whole Foods near our home  here in Miami offers massages on Fridays, isn't that insane? I never go to get one, but it's half tempting just to go see what that's all about, right? Grocery stores are bananas nowadays!
But while I was meal planning this week, my mister, Brian, asked me to buy bread. We don't really buy bread, because I usually make it (my favorite recipe is the No-Knead Bread. It's easy and mess-free) so while I was shopping at our local family owned-grocer, Whole Foods, and ALDI (you can not knock ALDI!) I realized that bread is expensive. Especially hot dog and hamburger buns. $4-$5 for a bag.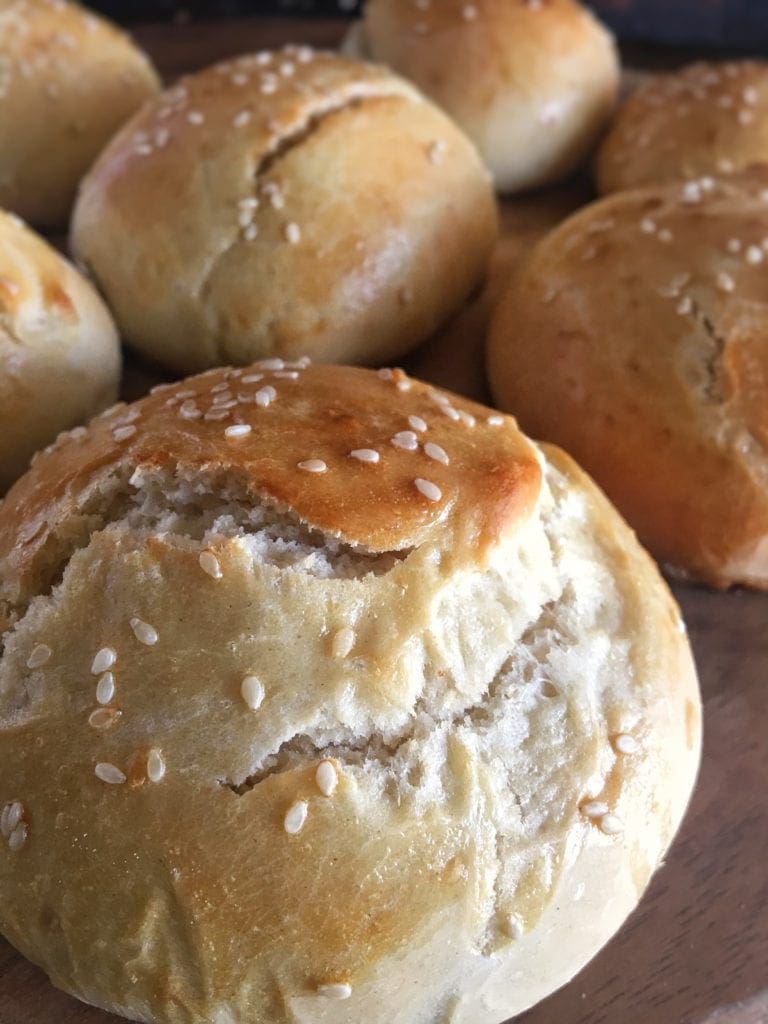 $4.99 for four brioche buns. Just four. We were having burgers for dinner and lunch the next day, that would mean we'd have to spend $10 on buns alone. That was more than the meat cost to make the burger patties!
I called up Brian and I was like, "Honey, I'm not buying bread."
I mean, it seemed silly to him, but for that same $4.99, I bought the ingredients needed to make a ton of brioche buns. And I could make them in less than one hour.
And they freeze well. A God-send. I'm not spending $10 on some buns, darnit. Not happening!
These buns are so soft and perfect for sandwiching pulled pork, flank steak (nothing's better than a CHURRASCO sandwich. You need it in your life.), barbecued chicken, hot ham and cheese, you name it. They blow store-bought bread out of the water.
If you just have one hour of time this weekend, make these buns. Make them, use them with a delicious burger, and freeze the rest you don't use. Or heat them up and cover them in honey butter, I won't say anything. I have no room to judge, I've already done it myself.
Shop this Recipe
[amazon_link asins='B00XBC3T6Q,B00LGLHUA0,B0000CFO2S,B000JPSI8C' template='ProductCarousel' store='sweetteaandth-20′ marketplace='US' link_id='53817350-6b44-11e7-a3c5-819ee26f7274′]
---
For more great recipes, subscribe to Sweet Tea & Thyme!
And let's connect on social media through FACEBOOK, TWITTER and INSTAGRAM. I love getting to know you guys!
---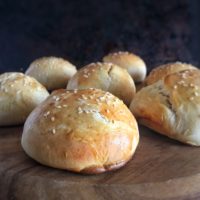 Homemade Brioche Burger Bun Recipe
Soft, rich, buttery brioche buns that are perfect for sandwiches and burgers, made in 45 minutes, start to finish.
Ingredients
1 package dry active yeast
1 1/4 cup warm milk, 110 degrees F
3 tbsp sugar
6 tbsp unsalted butter, melted
1 tsp kosher salt
1 large egg
3 1/2 cup all-purpose flour
1 egg yolk
1 tbsp milk or cream
Sesame seeds, optional
Instructions
In a large mixing bowl, gently stir together yeast, warm milk, and sugar. Let sit for 10 minutes to bloom, then add melted butter, salt, and egg. Whisk together well, then add in about 3 1/4 cups flour.
Stir ingredients together well, then turn out onto a well-floured (using the other 1/2 cup of flour) work space to knead. Gently knead by hand for 5 minutes, or until dough is stretchy and only slightly sticky.
Separate the dough into 8-10 balls (depending on how big you want them) and place onto a baking sheet lined with parchment paper. Cover and let rise in a warm space for 15 minutes.
Preheat oven to 425 degrees F (218 C). Whisk the egg yolk and tablespoon of milk together and brush the egg wash over the tops and sides of the buns. Sprinkle with sesame seeds, if desired.
Bake for 10 to 12 minutes, until buns are golden brown.
These buns can be frozen for up to two months
Nutrition Information:
Amount Per Serving:
Calories:

211
---
See you in the next post, y'all.
Eden Westbrook is the recipe developer, writer, and photographer behind Sweet Tea and Thyme. A classically trained chef, Eden has inspired home cooks into the kitchen with cultural comfort foods, easy family-friendly eats and sweets, and glorious spreads for date night and entertaining since 2015.