Mojo Criollo is the signature Cuban marinade that goes on just about anything! Full of garlic and citrus flavors that really impact whatever meat, poultry, or seafood you're marinating.
PIN THIS MOJO CRIOLLO RECIPE NOW IN YOUR CITRUS, SUMMER, SAUCES AND SPREADS, AND CUBAN/HISPANIC FOOD BOARDS ON PINTEREST. AND FOLLOW SWEET TEA & THYME ON PINTEREST FOR MORE TIPS, HACKS, AND TASTY RECIPES!
As someone who spent most of her adolescence growing up in sunny South Florida, I can honestly say I can bring you this recipe without someone's Cuban grandmother getting mad and throwing a chancla at me.
You didn't live in Miami if you've never eaten at Pollo Tropical (pronounced Poi-yo Trop-pee-cal).
You probably didn't grow up in Miami if you didn't see someone have a bottle of Mojo in their kitchen somewhere, whether homemade or store bought.
Mojo Criollo, or just mojo, is this intense, savory, garlicky, sour citrus marinade that is used in Cuban cooking. And we use it on a lot of different meats here, not just chicken, but pork, beef, and even shrimp and other seafood. It flavors everything it marinates with the taste that you just know is from Cuba.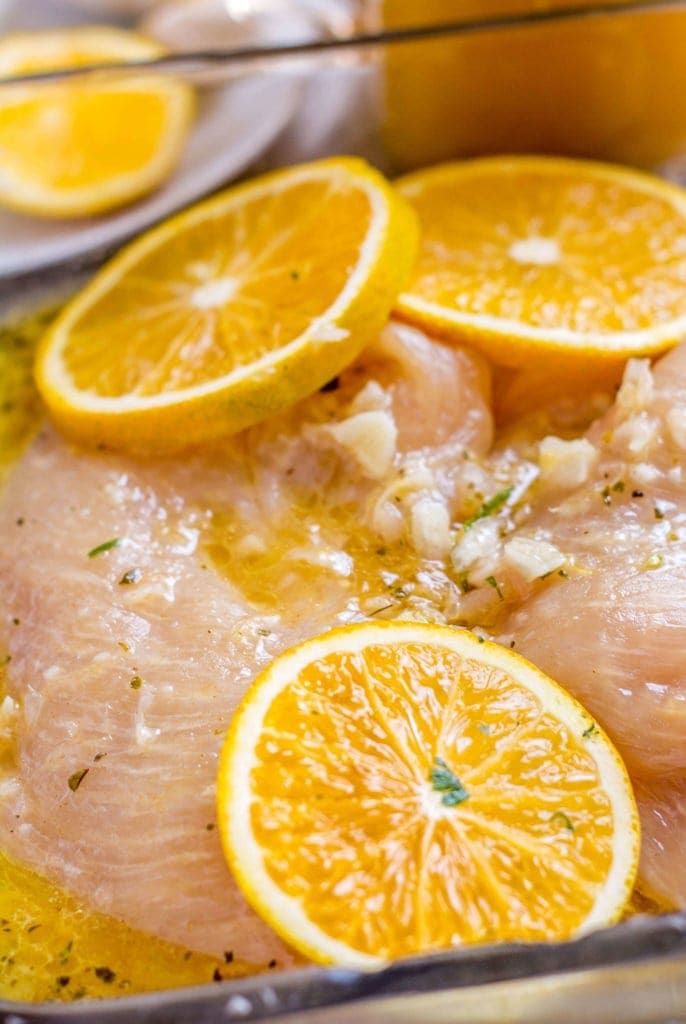 You've never even been to Cuba, or even Miami, but you know what it tastes like now. Be prepared: some Celia Cruz will start playing in the background, and you'll have the sudden urge to paint your home in bright colors.
You will go online to find Britto artwork. Maybe order a suitcase and a pair of salt and pepper shakers.
Okay, so maybe not all that, but it's still really, really good. Also, so is Celia Cruz's music.
To make this authentically go to the Hispanic or Caribbean market in your town, if you have one, and grab about 3-6 sour oranges. Yes, they are specifically called 'sour oranges', or naranja agria, and they are what is used traditionally in mojo criollo. They are sour -even bitter- in taste and bright yellow…kind of ugly and dimply, like an old orange. Perfect!
Or you might find a bottle of 'sour orange juice' in the spice or hispanic aisle of your grocery store.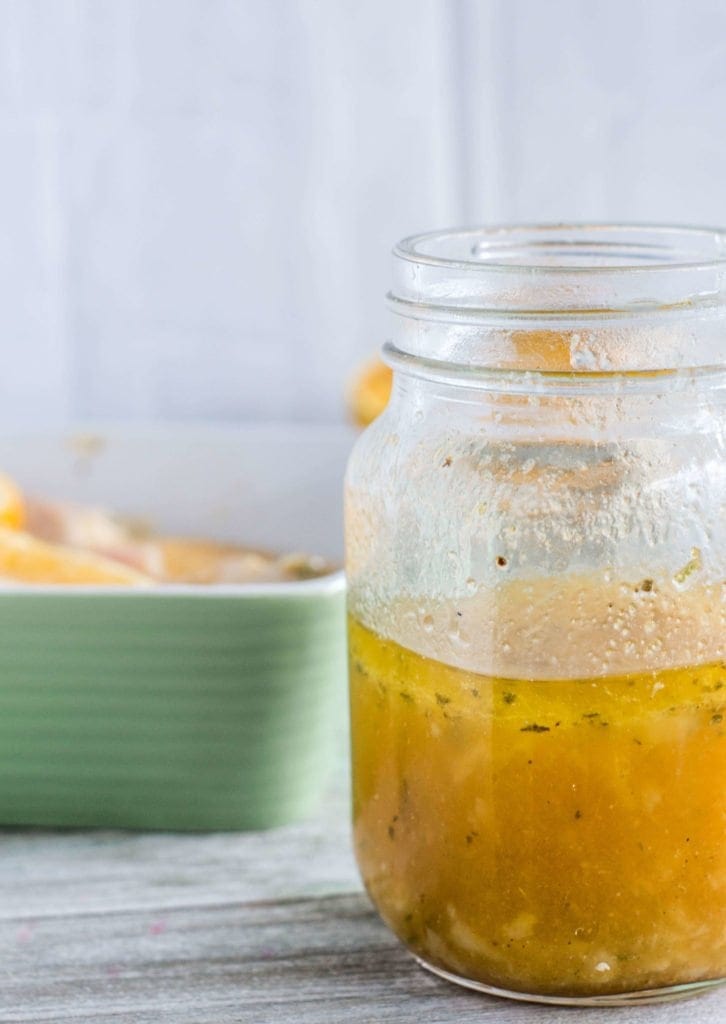 If you can't find these oranges, it's all okay, just use equal parts naval oranges and lime juice. This will still give a sour citrus flavor.
Now traditionally, mojo is 'sour orange, a ton of garlic, and salt' and that's it. But you'll find that the bottled stuff is also full of spices and herbs, and many homemade versions are as well (so I am still safe from la chancleta). Oregano, a pinch of cumin, some freshly cracked black pepper, but the main flavor you want besides the base of sour orange, is the garlic.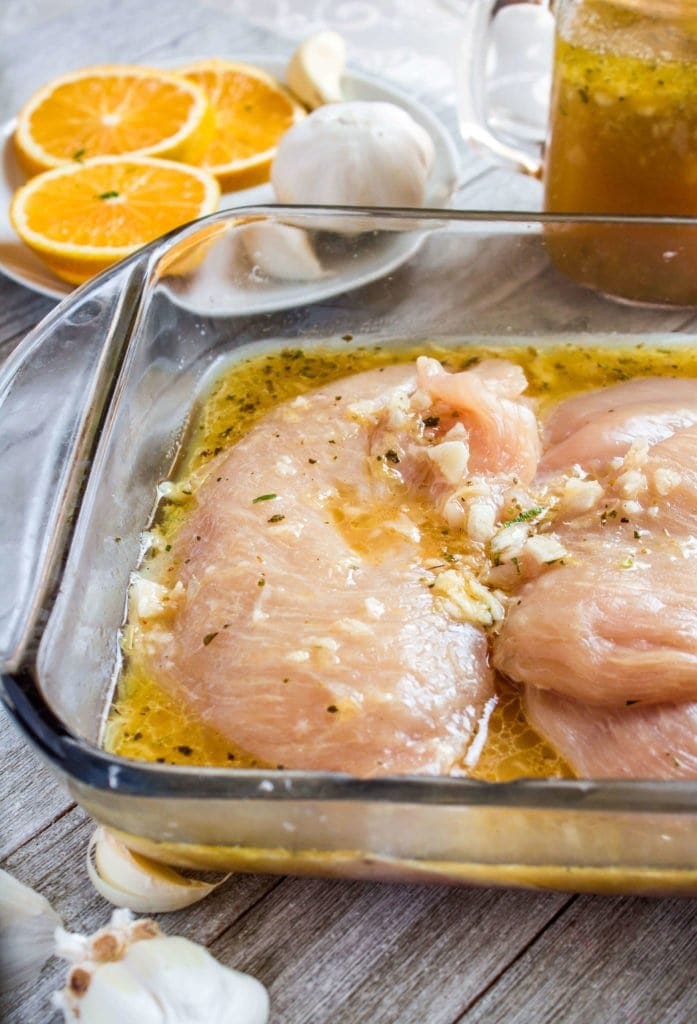 This recipe has an absurd amount of garlic. Ten cloves, and I suggest you either invest in a garlic press for easy intense garlic flavor, rather than having to finely mince it by hand, or do it the traditional way (as per the recipe) and make a garlic paste with a mortar and pestle. Grinding the garlic cloves with coarser salt (don't use table salt) to make the paste really brings out that strong garlic flavor you're looking for.
 One important thing: if you are making this for pork, and the pork has fat on it (so not a pork tenderloin, more like for pork butt) don't add the olive oil, it doesn't need the added fat. But for everything else, beef, chicken, seafood, keep the olive oil as per recipe.
shop this recipe
[amazon_link asins='B01DJBY1LA,B01JFU9LZU,B004VS32HA' template='ProductCarousel' store='sweetteaandth-20′ marketplace='US' link_id='37e3a3c5-2a17-11e8-a433-5d140e083354′]
---
FOR MORE GREAT RECIPES, SUBSCRIBE TO SWEET TEA & THYME!
AND LET'S CONNECT ON SOCIAL MEDIA THROUGH MY FACEBOOK PAGE, TWITTER AND INSTAGRAM. I LOVE GETTING TO KNOW YOU GUYS!
Mojo Criollo
Mojo Criollo is the signature Cuban marinade that goes on just about anything! Full of garlic and citrus flavors that really impact whatever meat, poultry, or seafood you're marinating.
Ingredients
2 cups sour orange juice
8-10 cloves fresh garlic
1 tsp kosher or sea salt
1/3 cup olive oil
1 tsp dried oregano
1/2 tsp ground cumin
1 tsp freshly cracked black pepper
Instructions
In a mortar and pestle, smash and mash garlic cloves to break them open. Add salt, then crush, smash, and smear in the mortar with the pestle until the garlic breaks down and becomes smoother and more paste-like.
In a medium-sized bowl, whisk together all the ingredients together.
Use as a marinade for any meat, poultry, or seafood.
Nutrition Information:
Amount Per Serving:
Calories:

186
don't forget to pin this recipe!

Eden Westbrook is the recipe developer, writer, and photographer behind Sweet Tea and Thyme. A classically trained chef, Eden has inspired home cooks into the kitchen with cultural comfort foods, easy family-friendly eats and sweets, and glorious spreads for date night and entertaining since 2015.