Apple pie from scratch that slices beautifully with amazingly flaky crusts, spiced apple filling that holds its shape, and is perfect for any holiday.
Well, heller there.
PIN THIS APPLE PIE RECIPE IN YOUR THANKSGIVING, DESSERT, FALL, AND PIE DAY RECIPE BOARDS ON PINTEREST. AND FOLLOW SWEET TEA & THYME ON PINTEREST FOR MORE TIPS, HACKS, AND TASTY RECIPES!
It's November, and I have some serious ants in my pants. It's the full on holiday season; the full on 'cook everything comforting' season.
It's Friendsgiving season, Thanksgiving season, about to be CHRISTMAS. Oh my goodness. The year flew on by, huh?
Before we get to peppermint hot chocolate and baking Christmas cookies, let's set down for a second and get ready for Thanksgiving.
In D.C., Brian and I used to go apple picking (when Greyson was teeny tiny!) and we'd get so many apples, it was ridiculous! Made a ton of apple butter, and always sent them with Brian to work as gifts for the nurses, and one year we had Brian's friends from work over for Thanksgiving. Their families weren't with them (military life, you know?) so we wanted to share a home-cooked Thanksgiving dinner. Not only did I make a ton of sweet potato pie, but also a ton of apple pie. It was all GONE in a matter of minutes.
That may or may not have been because apple pie is Brian's all time favorite dessert. And my apple pie? He can't get enough of. It was hard to take these photos because I had to plan this and shoot it before Brian came home from work. And sure enough, more than half the pie was gone before the end of the evening.
Let's talk about the ins and outs of a really good apple pie.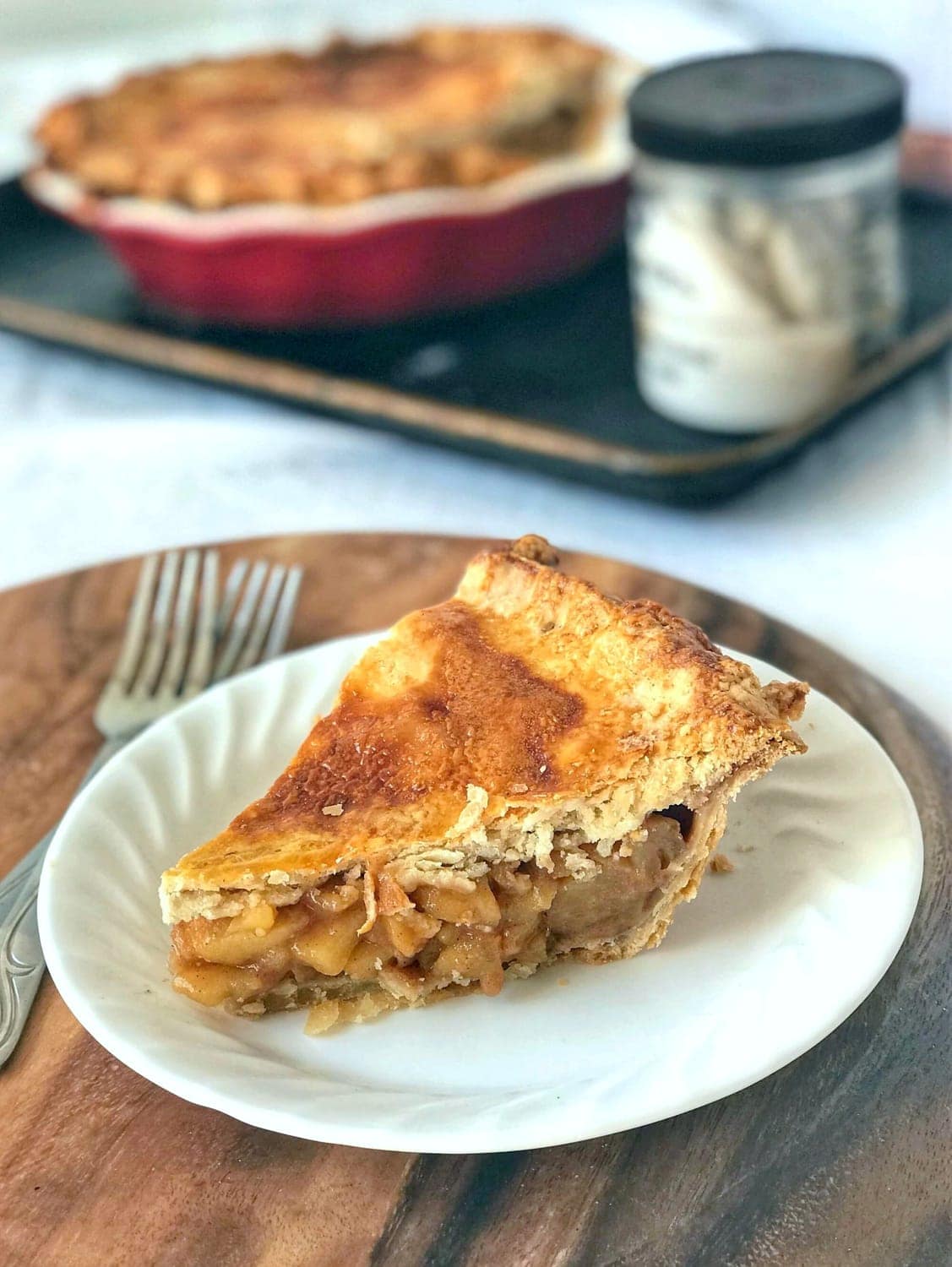 First, the apples.
If you've never baked with apples, please, I'm begging you, don't go thinking any ole apple type will do. Some apples just aren't made for baking or cooking. That Red Delicious and McIntosh? It'll turn into a mushy, soupy mess in your pie. Don't do it!
You're looking for apples that are great for baking and don't lose their shape or texture while cooking and baking: Granny Smith apples are popular and bring a very tart taste, and often people will mix them with sweeter apples like Gala or Fuji, but I personally like using Honeycrisp, since they are sweet but still got that tartness needed to balance out all the sweetness in your apple pie. Pink Lady apples are actually my all time favorite, but they are only around for a month or so in the fall and aren't easily available.
Par-cook your apples.
Raw apples in your pie can cause all sorts of problems. Soupy filling, a large gap between the crust and the now-shrunken apples, apples that have lost their shape, etc. Par-cooking not only relieves you of these problems, but also makes it so you're able to make your filling in advance. Keep the filling in the fridge until you need it, up to three days, making your baking day quick and easy.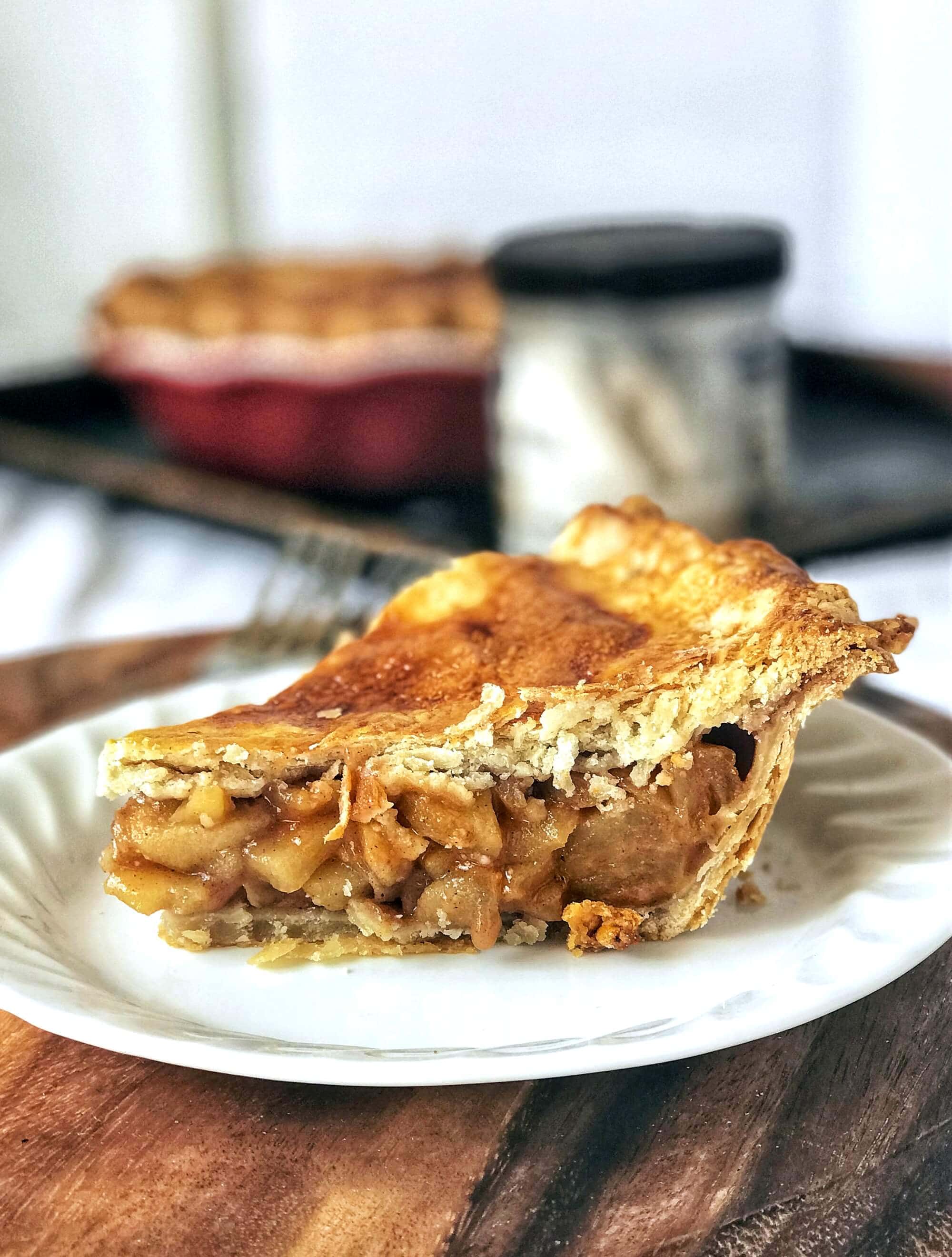 The crust.
Flaky, flavorful, and darn-good crust comes from this little secret: mixing the fats. It's all about the fats in your crust, y'all. Fats are what make the crust.
There's always a debate about what exact fat makes the best crust. Shortening was the end-all, be-all back during our grandmothers' time in the 50's and 60's but it really lacks flavor. Butter is fantastic; it gives great flavor, browns beautifully, and aids in making your pie crust super flaky. In fact, a butter-shortening crust is well loved around here and I use it all the time when I don't have any lard.
That's right. Lard.
Boom! The Lard Bomb.
Okay, that totally doesn't sound good at all, hahaha.
Leaf-lard can be uncommon, but because it creates the ultimate flaky crust, and with butter it gives the ultimate-ultimate crust in both flakiness and flavor, it's the GOAT for pie, in my opinion. That's 'Greatest Of All Time'.
Yeah, I just learned what that was a couple days ago. Man this next generation has me feeling old! And I'm only in my twenties!
But regular lard you may find in a nice grocery store will work perfectly, too. It will still give a tender and flaky crust.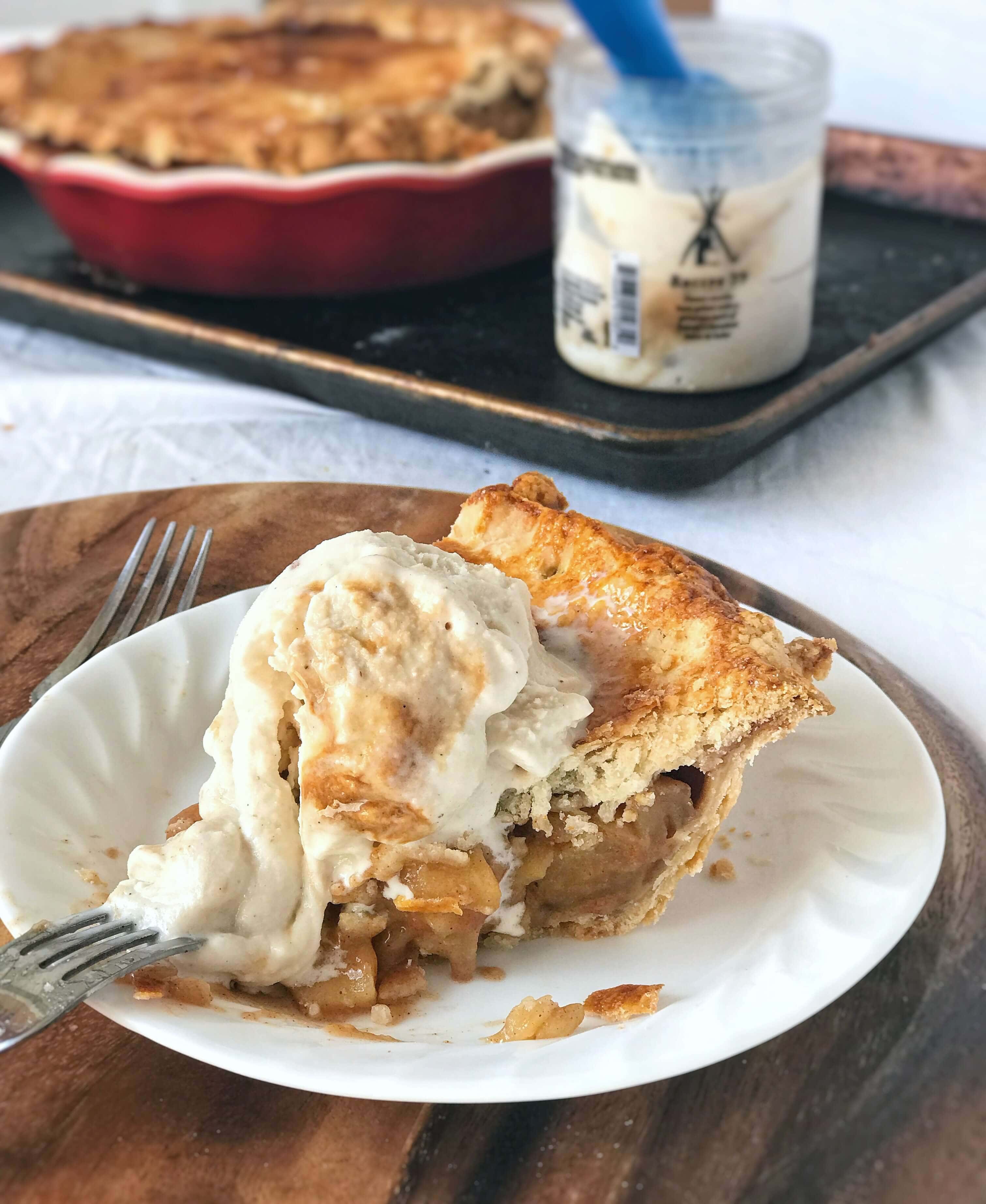 My apple pie is so easy to do, so easy to put together, and the best part is that you can make it up to THREE days ahead!
Thanksgiving? Make the filling and crusts on Monday or Tuesday, roll out and bake on Thanksgiving morning before you throw the turkey in. Boom.
I feel like Angela from Why Did I Get Married with all these booms.
Boom!
Make sure to add on some vanilla ice cream, it's just not a classic apple pie without some.
Shop this Recipe
[amazon_link asins='B00G4M305K,B000QJE48O,B005PP99L6′ template='ProductCarousel' store='sweetteaandth-20′ marketplace='US' link_id='e729fe6f-c633-11e7-9d99-35bbe5549487′]
---
For more great recipes, subscribe to Sweet Tea & Thyme!
And let's connect on social media through my FACEBOOK PAGE, TWITTER andINSTAGRAM. I love getting to know you guys!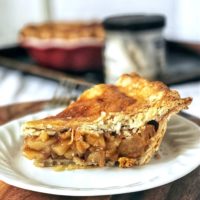 Perfect Apple Pie from Scratch
Apple pie from scratch that slices beautifully with amazingly flaky crusts, spiced apple filling that holds its shape, and is perfect for any holiday!
Ingredients
Crust
2 1/2 cups all-purpose flour
1 1/4 tsp salt
8 tbsp unsalted butter, chilled and cubed
1/2 cup vegetable shortening or leaf-lard, chilled
5-7 tbsp ice water
Filling
4 tbsp unsalted butter
1/2 cup granulated sugar
1/2 cup brown sugar
1 tsp vanilla extract
2 tsp cinnamon, ground
1/4 tsp nutmeg, ground
1 tsp lemon zest
1 tbsp lemon juice
3 tbsp all-purpose flour
4 lbs apples, peeled, chopped into 1/4 inch slices
2 tbsp cornstarch
2 tbsp apple cider
Baking
1 egg
1 tbsp cream or milk
2 tbsp turbinado sugar
Instructions
Make the Crust
In a large bowl, whisk together salt and flour. Add butter and lard/shortening.
With a pastry cutter, or with a fork and knife, cut the fats and flour together until the mixture resembles coarse meal. Most of the fat should be the size of large peas, and larger sized bits of fat are encouraged.
Using a tablespoon measure, pour one tablespoon of ice water at a time in and stir with a large rubber spatula. Stir after each addition of water. Stop adding water when the dough begins to clump together.
Turn dough out onto a floured work surface. It should slightly, slightly tacky and come together easily. Form the dough into a ball, then divide into two halves. Flatten each half into 1 inch thick discs. Wrap each dough tightly in plastic wrap. Refrigerate for at least an hour (but they can stay in the fridge for up to 3 days).
Make the Filling
In a large pot over medium heat, melt butter. Stir in both sugars, cinnamon, nutmeg, lemon zest and juice, and flour. Add apples and toss with a wooden spoon.
Cover pot and cook the apples, stirring occaisionally, making sure the sugar doesn't burn and the liquid is bubbling. The apples should begin to soften in 10 minutes.
In a small bowl, whisk together cornstarch and apple cider. Pour into the apple mixture and turn down temperature to low. Let cook for another 5 minutes, or until apples have softened and become a little tender.
Let apple filling cool for one hour to overnight before assembling apple pie.
To Assemble
Preheat oven to 375 degrees F.
Remove one pie crust disk from fridge, unwrap it, and place on a work surface. Roll out the disk from the center outward, lifting crust slightly and rotating it 90 degrees after every few rolls. Lift and dust underside with flour every so often to prevent sticking. Roll dough out to be about 11 to 12 inches larger than your 9 inch pie dish and about 1/8" thick.
With your rolling pin, roll pie crust off the work surface to loosely wrap around the pin and carefully roll out into the pie dish. Trim the edges to 1/2 inch beyond the lip of your pie dish, then turn the edge under to create the rim. Press the rim against the pan to form an even edge. Use scraps to fill in any tears, thin spots, or holes in the pie crust. Refrigerate pie crust for 15 minutes.
Remove crust from the freezer and cover the crust with a large piece of parchment paper. Fill the parchment paper with dried beans or pie weights, then cover the edges with strips of aluminum foil to prevent browning. Bake for 20 minutes.
Remove the parchement paper and pie weights and bake for 15 more minutes. The crust will be dry and won't be soggy once pie is baked. Let cool for 10-15 minutes.
Raise oven temperature to 425 degrees F.
While baked crust is cooling, roll out second pie crust on a floured work surface.
Add apple filling to the pie dish, making sure to compact the apples, as air pockets will cause a gap inbetween the apples and crust. Place the rolled out second crust over over the top, then flute the edges with your fingers to seal the top crust to the bottom.
Create egg wash with egg and cream, then brush egg wash over the crust. Sprinkle turbinado sugar over the crust as well. Using a sharp knife, cut some slits into the top crust to give steam a place to escape.
Place pie on a baking sheet, then place in oven on the middle shelf. Bake for 15 minutes, then reduce heat back to 375 degrees F and continue to bake for 40 minutes. The top should be golden brown and the filling bubbly.
Let pie cool completely before serving, about 4 hours. Serve with vanilla ice cream.
Nutrition Information:
Amount Per Serving:
Calories:

456
Eden Westbrook is the recipe developer, writer, and photographer behind Sweet Tea and Thyme. A classically trained chef, Eden has inspired home cooks into the kitchen with cultural comfort foods, easy family-friendly eats and sweets, and glorious spreads for date night and entertaining since 2015.