Strawberry spinach salad is delicious and classic with juicy strawberry slices, creamy feta cheese, and crunchy candied nuts with a bright lemon poppy seed dressing!
Welcome to Valentine's Week! I have some amazing, amazing recipes this week that will amaze and impress your date this year. Hope you enjoy them!
Oh my Lord, I'm sure my military friends are cracking up at me right now. I know my parents are laughing. My husband looked at me side ways when I said I wanted to make this recipe…
Back in RTC Great Lakes, I refused to eat salad. I was 18, and I was traumatized! I had tried a salad once at a restaurant before being shipped off to boot camp and…Ugh, it was not pleasant.
I'm a meat and potatoes type of girl, for me greens are cooked…usually with lemon, butter, garlic, as a side dish.
Ending the dramatics–
I went out on a whim when Brian took me to the Melting Pot for our 7th wedding anniversary in December. We love going there for date night, there's just something about fondue dates and sort of playing with your food that's just so fun.
Anywhoo, so part of the meal is the salad course, and I usually skip it but I saw the strawberry spinach salad and went for it. I like spinach, I like strawberries, and candied pecans? Yes, please!
It seems like such a small thing, but trust me, everyone is cackling at me right now because the words "I don't eat rabbit food" came out of my mouth every time someone said anything about my plate of food. No amount of shaming would make me eat salad.
But this strawberry spinach salad? I thoroughly enjoyed it, especially with the lemon popyseed citronette.
What's a citronette? It's a vinagrette, without the vinegar. Instead, the acid is from citrus, in this case, the lemon.
Sweet strawberries, tartness from the lemon juice, the feta adds this great creamy aspect and added salt for more dimension and, of course, the candied nuts added crunch. Really, a perfect salad for a beginner salad eater.
It was a great addition to our date night dinner. And since it's Valentine's Day season, I figured this salad would be a perfect recipe to bring to y'all for your Valentine's dinner.
It's really simple, it's baby spinach, sliced strawberries, some nice feta cheese crumbles, and candied nuts. It classically has pecans but I still had some candied walnuts on hand from my spiced peach shortcakes last week, and it worked perfectly for this salad.
You can really customize this to your liking: add spring mix to your spinach, use goat cheese instead of feta, add red onion for some punch, candy whatever nut you fancy, or add some rotisserie chicken to make it a meal!
When I served this to my family with dinner everyone loved it, even my five year old, Greyson. He loves strawberries and cheese (and the word 'candied') so he gobbled up this salad like it was his favorite meal.
So if you've got a picky non-salad eater or you want a salad on point with your Valentine's themed dinner, give this a try! And if you're pulling out all the Valentine's Day dinner stops, subscribe to Sweet Tea and Thyme because I've got Million Dollar Chicken coming later this week!
Looking for the perfect entree to go with your strawberry spinach salad? Check out:
REMEMBER TO SUBSCRIBE TO SWEET TEA & THYME'S NEWSLETTER FOR FREE AND RECEIVE FRESH RECIPE NOTIFICATIONS DELIVERED INTO YOUR INBOX!
---
IF YOU TRY THIS RECIPE, PLEASE USE THE HASHTAG #SWEETTEATHYME ON INSTAGRAM FOR A CHANCE TO BE FEATURED!
FOLLOW SWEET TEA AND THYME ON FACEBOOK | INSTAGRAM | PINTEREST FOR ALL OF THE LATEST CONTENT, RECIPES AND UPDATES.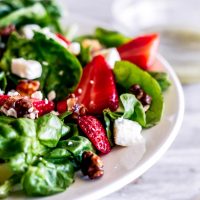 Strawberry Spinach Salad (Melting Pot Copycat)
Strawberry spinach salad is delicious and classic with juicy strawberry slices, creamy feta cheese, and crunchy candied nuts with a bright lemon poppy seed dressing!
Ingredients
8 oz baby spinach
8 oz fresh strawberries, sliced
5 oz feta cheese, crumbled
Lemon Poppyseed Citronette
1/4 cup light olive oil or grapeseed oil
1/2 tsp poppy seeds
1/2 tsp dijon mustard
Zest of half lemon
Juice of 1 lemon
1/2 tsp kosher salt
Candied Nuts
3/4 cup chopped walnuts or pecans
2 tbsp brown sugar
1/2 tbsp unsalted butter
Instructions
Lemon Poppy Seed Dressing
In a medium sized bowl, whisk oil, poppy seeds, mustard, lemon zest, lemon juice and salt. Whisk vigorously until well combined and allow flavors to meld at room temperature for at least 5-15 minutes.
Candied Nuts
Line a baking sheet with parchment or wax paper. Set aside.
Melt the butter in a small skillet over medium heat. Add in the nuts and brown sugar, stirring wit ha silicone spatula to coat. Cook over medium heat, stirring constantly until the sugar begins to caramelize (about 3 minutes). Spread out candied nuts on the parchment paper lined baking sheet to cool.
To Serve
In a large salad bowl, toss spinach, strawberry slices, candied nuts, and cheese together. Serve with the dressing, don't pour it on until ready to serve. 
Nutrition Information:
Yield:

6
Serving Size:

1
Amount Per Serving:
Calories:

310
Total Fat:

28g
Saturated Fat:

7g
Trans Fat:

0g
Unsaturated Fat:

20g
Cholesterol:

24mg
Sodium:

454mg
Carbohydrates:

12g
Fiber:

3g
Sugar:

7g
Protein:

7g
Eden Westbrook is the recipe developer, writer, and photographer behind Sweet Tea and Thyme. A classically trained chef, Eden has inspired home cooks into the kitchen with cultural comfort foods, easy family-friendly eats and sweets, and glorious spreads for date night and entertaining since 2015.