Fun and unique gift ideas for your friend who loves to entertain with food. Your hostess friends will love you this holiday season.
Okay, so how can't say they at least have a little bit of this one in them? And who doesn't have a home-grown Martha Stewart in their midst?
I mean, who would say this home-grown Martha Stewart doesn't want adorable home goods to serve hors d'oeuvres on for their daily life? Okay, maybe that's a vision of grandeur. Because I totally eat pizza rolls or biscuits off adorable home goods all the time. But also, for the grandiose Christmas parties and summer bashes that can't have plastic red party cups.
This is a judge-free blog, y'all. I won't judge your party cups and you won't judge mine.
This gift guide is for the hostess in your life. The one who serves (or wants to serve) a bomb antipasti platter on boards made of whole wood slices (but maybe also uses said wood board as a personal plate for chips and dip. You may never know.)
Gift Guide For:
Your Hostess Foodie Friend
PIN this post to your Christmas Board to save it for later! FOLLOW SWEET TEA & THYME on Pinterest for more great tips, holiday hacks and delicious recipes.
---
A Cheese Board
I don't know one girl who loves to host who doesn't have a cheese board and doesn't want another. Cheeseboards don't have to be just for cheese they can be multi-taskers (which I am all about!) so I have TWO options: One that is 100% a cheeseboard with cheese forks, knives, a little condiment bowl and the names of different cheeses are lasered into the wood. It's so cute and affordable, too, at $30.00.
The second option is unique and would be a welcome addition to anyone's kitchen: a wine barrel wood board. This could be used for just about anything, and I could see it as a statement piece. It's pretty and interesting.
---
A Fondue Set
Fondue sets are very affordable and are an unexpected twist on your usual dinner party. It's a great experience and lots of fun, without standing over a hot stove to serve guests plenty of tasty food. They can do it themselves! I love this one by Cuisinart especially, because it's electric! You don't have to worry about buying candles or flame gel or anything else with it, and that's a wonderful thing.
---
Adorable Cocktail Picks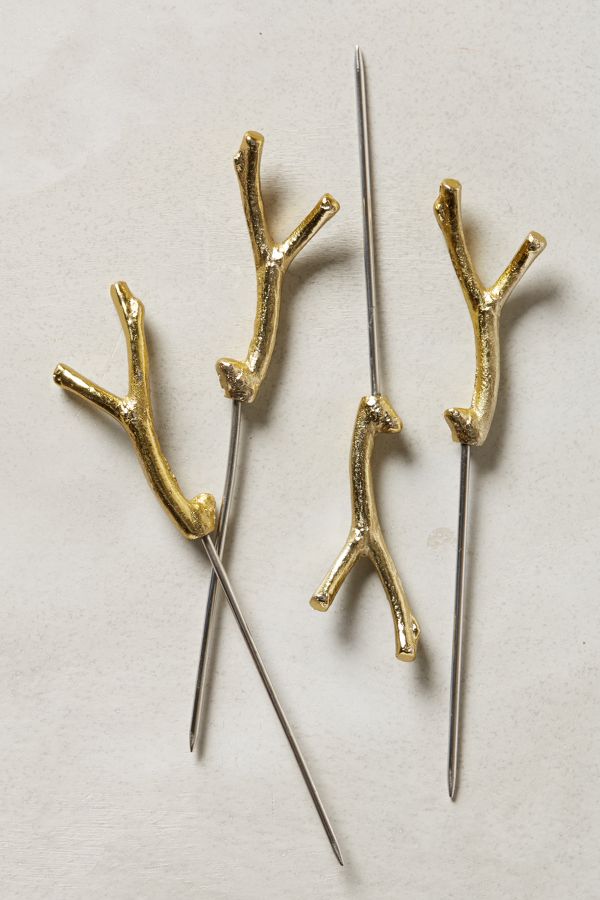 When I saw these branch and twig cocktail picks on the anthropologie website, I absolutely spazzed a little. They are a set of picks that are from an entire line of of gold branchy/twiggy serveware and they are everything. I don't know any hostess who wouldn't love to stick branch cocktail picks into fancy little caprese appetizers. I also saw some branchy serveware at Sur La Table, just an FYI.
---
This Hand-painted Chili Pepper Painting
If you really are a foodie, you might have some paintings of food around the house. Your hostess friend, as a true foodie, will love this gorgeous, unsuspecting poblano chili pepper around the pantry and kitchen. Affordable and it says, " I really know you, I know your taste in both food and furnishings."
---
One Fashionable Set of Shakers
You can't tell me that these aren't more stunning than those old diner-esque salt and pepper shakers. I, for one, love a classy salt and pepper shaker. This set is unique and has a minimalist look.
---
For more amazing gift guides and mouthwatering recipes, subscribe to Sweet Tea & Thyme for all these things and more direct to your inbox.
Let's keep in touch on FACEBOOK, INSTAGRAM AND TWITTER!
Don't forget to follow us on Pinterest!
---
Here are More Great Gift Ideas!
Gift Guide 2016: The New Foodie
---
See you in the next post!
Eden Westbrook is the recipe developer, writer, and photographer behind Sweet Tea and Thyme. A classically trained chef, Eden has inspired home cooks into the kitchen with cultural comfort foods, easy family-friendly eats and sweets, and glorious spreads for date night and entertaining since 2015.