This post may contain Affiliate Links. Please see my Full Disclosure Policy for more details.
Chicken bacon avocado salad makes for an absolutely delicious meal or side dish that I love using up leftover chicken in. A bed of greens, sliced and diced avocados, chopped chicken and thick cut bacon tossed with strawberry vinaigrette is the base, making this an easily customizable and delicious any-time salad!
It's official. Food blogging has turned me into a salad person.
I asked on Instagram, you answered. You want no-cook recipes this summer, and I know honey. My electric bill wants no-cook dishes too because my A/C is on icicle. Then again, considering it's Miami, I don't think no-cook matters because my electric bill will remain high as long as the heat index is in the triple digits.
This bacon chicken avocado salad is absolutely perfect for right now. It makes a lot and the best part is that you only need to cook once and have a whole week's worth of salad ready for you. Honestly, if you grab a rotisserie chicken then all you really have to do is cook up your bacon and chop it up Sunday night so you can have chicken bacon avocado salad all week. Super easy and it makes about 4-6 servings.
How to Make Bacon Chicken Avocado Salad
It's all really simple. Either buy a rotisserie or use up chicken leftovers…if you need a recipe to make leftovers out of, I suggest this Juicy Roast Chicken for beginners, Spatchcock Chicken with Potatoes for a one-pan meal, or my Million Dollar Chicken if you're feeling fancy.
Join the Sweet Tea Fam!
Join the newsletter along with thousands of other readers. Get free recipes, giveaways, and more right in your inbox!
Processing…
Success! You're on the list.
Whoops! There was an error and we couldn't process your subscription. Please reload the page and try again.
Then make your bacon. I really like making it in the oven (again, my A/C is on snow globe) since it's such an easy and hands-off way to cook bacon. Another way I like making it is by cold-pan cooking them. This renders a lot of fat out and makes for crispier bacon.
This Chicken Avocado Salad has…
Plenty of bacon, which you can use turkey bacon if that's what you like.
Chopped chicken, which can be done any way you like, but I like roasted or grilled chicken, personally. And if you want to be all healthy, it can be all chicken breasts.
Avocado, and I usually get avocados that are not yet ripe along with one or two just about ripe ones so they can ripen at home and I can use them throughout the week without any getting old on me.
Loads of greens. I really prefer spinach, I don't know why it's just my salad green of choice but I do make Brian's with spring mix all the time. It's about your preferences, y'all. Use whatever greens you want.
A delicious vinaigrette. I love making a strawberry citronette with my salads in the spring and summer, which makes this salad super healthy…yeah, bacon is healthy. Let's just go with that.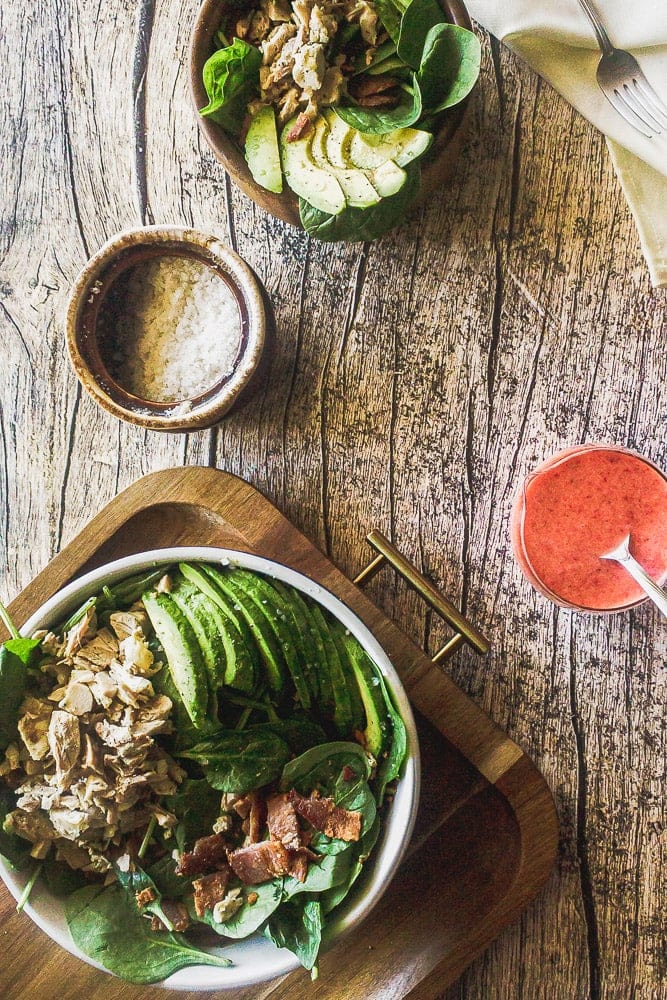 Salad Topping Ideas
My salad is nice and simple but here are a few of my favorite add-on toppings.
Feta cheese, blue cheese, or goat cheese
Spiced nuts
Fruits like mango, strawberries, raspberries, etc.
Dried craisins, cherries, raisins.
Grilled corn
Fresh Herbs like dill, chives, rosemary, thyme, etc.
Fresh cherry tomatoes, English cucumbers, or shredded carrots
Sliced black or green olives
Shallots, green onion, or red onions
Hard-boiled eggs
Poppy seeds, sesame seeds, pepitas, etc.
Chimichurri sauce, ranch, bang bang sauce, blue cheese dressing…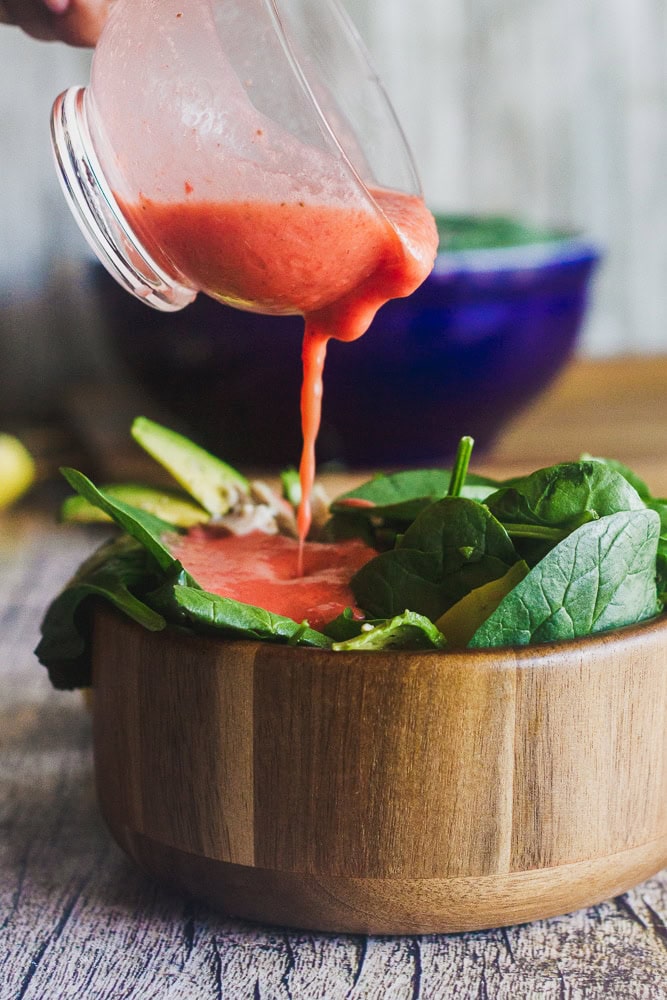 And whatever else you like in salads! 🙂 I poured a really delicious strawberry citronette (which is very similar to vinaigrette, it just uses lemon juice instead of vinegar) over it and I was in love! Strawberries on salad is obviously my jam.
What to serve with chicken avocado salad
To be honest, it's a pretty hearty dish itself. Full of chicken, bacon, greens, and whatever else you may add to your bowl make this salad very filling and full of healthy fats. That said, here are some great recipes that would go great with chicken bacon salad:
Also a great idea: turn this salad into a sandwich with slices of bacon, chicken, avocado, and greens between nice thick slices of brioche bread. Seriously tasty.
Want more fresh Summer recipes? Check out:
Click here to subscribe SWEET TEA & THYME'S NEWSLETTER for free and fresh recipes right into your inbox!
To pin this recipe and save it for later you can use the Pin button on the recipe card, the sharing buttons above or below this post, or on any of the photos above.
Tag me @sweet_tea_thyme on Instagram when you make this recipe. I love seeing my recipes enjoyed and shared in kitchens across the world; you guys are amazing!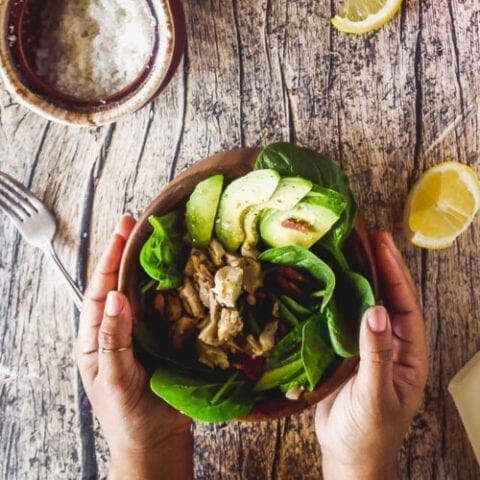 Chicken Bacon Avocado Salad
Chicken bacon avocado salad makes for an absolutely delicious meal or side dish that I love using up leftover chicken in. A bed of greens, sliced and diced avocados, chopped chicken and thick cut bacon tossed with strawberry vinaigrette is the base, making this an easily customizable and delicious any-time salad!
Ingredients
Chicken Bacon Avocado Salad
2 chicken breasts or chicken thighs, cooked and chopped into bite sized pieces
2 ripe avocados, sliced or diced
6 strips thick-cut bacon, cooked to preference and chopped
4 cups desired greens, I prefer spinach or spring mix
Sea Salt and Freshly Cracked Black Pepper, to Taste
Strawberry Vinaigrette
1/2 cup strawberries, hulled
1 lemon juiced
Zest of 1/2 lemon
¼ cup extra virgin olive oil
1 tablespoon honey
Sea Salt and Freshly Cracked Black Pepper, to taste
Instructions
Strawberry Vinaigrette

Blend strawberries, honey, apple cider vinegar, olive oil, salt, and black pepper together in a blender until smooth.


Chicken Bacon Avocado Salad

Toss all salad ingredients together well, adding salt and pepper as needed.

Dress the salad with strawberry vinaigrette when ready to serve.
Notes
Meal Prep ahead of time
Meal prep the chicken and bacon ahead of time and mix in all ingredients when ready to eat for the week.
Fast and Easy meal hacks
Use rotisserie chicken from the store or roast a whole chicken and shred/chop the meat up to use throughout the week
Bake the bacon in the oven on a baking sheet for 15 minutes at 350 until crisp. So much easier and less messy than in a pan.

Nutrition Information:
Yield:

6
Serving Size:

1
Amount Per Serving:
Calories:

351
Total Fat:

22g
Saturated Fat:

5g
Trans Fat:

0g
Unsaturated Fat:

15g
Cholesterol:

75mg
Sodium:

463mg
Carbohydrates:

16g
Fiber:

11g
Sugar:

1g
Protein:

28g
Eden Westbrook is the recipe developer, writer, and photographer behind Sweet Tea and Thyme. A classically trained chef, Eden has inspired home cooks into the kitchen with cultural comfort foods, easy family-friendly eats and sweets, and glorious spreads for date night and entertaining since 2015.